Too little information can be as disconcerting as too much.

Patricia Wentworth (adapted)
We are a small prospective and introspective thinking-based strategic consulting, planning and training firm helping businesses and organizations alike articulate strategies , practices and models that are based on the augmented and their preferred future so they thrive today and in the future.
Our purpose is simple, to provide augmented information to help businesses stay relevant today and be relevant tomorrow by defending and evolving their core business engine today while developing their future business engine.
Our values are simple and robust:
Integrity: we do what we say.
Transparency: We say what we do.
Listening: we listen to what people say not from what we think they should say.
Collaboration: we understand that the other is an undetachable part of the solution.
Constant improvement: life is dynamic, we constantly improve.
Urgent optimism: Optimism is an immediate positive action.
Job to be done: We focus on solving the customer's problems and challenges.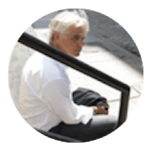 Hi, I am Chris (Christian) Royer the founder of AUGMNT. Being curious by nature, my background is very diverse. I was involved in law practice (real estate, corporate, securities, due diligence, continuous reporting) financial planning, alternative finance & investments packaging and brokering, real estate syndication, investors relations and trading (commodities, futures, forward contracting and spot) as well as international export. This eclectic background and diverse interests are a real advantage for articulating the AUGMNT solutions.
Education
I hold two (2) law degrees from the Faculty of Law of the University of Montreal and also held licenses as a securities and life insurance representative in Canada.
Continuing Education
To serve better, I deepened my knowledge about the following important topics and issues:
● Futures Thinking Specialization/Certification – Institute For The Future (IFTF)
● Social Entrepreneurship – Copenhagen Business School
● Beyond Silicon Valley: Growing Entrepreneurship in Transitioning Economies – Case Western University
● New Models of Business in Society – University of Virginia, Darden School of Business
● Age of Sustainability, An Introduction – Columbia University (with Jeffrey Sachs)
● Circular Economy, An Introduction – TU Delft and Macarthur Foundation
● Entrepreneurship: Financing and Profitability – Wharton Business School
● Greening the Economies: Sustainable cities – Lund University
● Financing and Investing in Infrastructure – Bocconi University
● Impact Investing – Essec Paris
● Fundamentals of Global Energy Business – University of Colorado
● Financial Markets – Yale University
● Introduction to Fintech – University of Hong-Kong
Enjoy visiting our website

.
To your success

.
Space intentionally left for the future.